Operating Room Patient Warmer
This control is used during surgery and afterwards in recovery.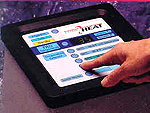 Hypothermia is greatly reduced, and this in turn limits the occurance of postoperative infections.
This is a design example of a medical device that is a temperature control unit for use in hospital operating rooms.
Independent Digital Consulting designed this unit with a simple multicolored LED and pushbutton panel for error-free use. It monitors and controls the surface interface temperature of the patient using a proportional control algorithm.
Special features such as a hardware overtemp alarm, redundant sensors, and nonvolatile memory provide the reliability necessary in an operating room environment. An RS-485 communications link lets the device interface with accessory controllers.
This unit was designed to meet the UL2601 standard.