Hospital Air Bed Therapy
This assembly provides logic and I/O for a medical airbed.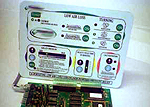 The design included a user interface panel with LEDs and snap-dome membrane buttons. This approach made the panel waterproof and easy to use.
This is a design example of a medical device that controls a multi-chamber air mattress, used to provide several therapies for patients by manipulating the pressure in the cells.

The bed runs different types of therapy on patients who are incapacitated. It is designed and manufactured by IDC for use in beds destined for hospitals and nursing homes. Designed to meet UL544 for use in US markets, this rugged unit is delivered assembled and tested.
The six relay outputs run the bed's solenoids according to user selected therapies. Patient turning and alternation functions are provided to accelerate recovery.
Prototypes of this system were built for the client. These were used for functional testing and demonstration.