Equipment Used for Development, Testing, and Production
Independent Digital Consulting, Inc. is a proud member of IPC, an international organization that sets acceptance standards. Visit their web site at
www.ipc.org . .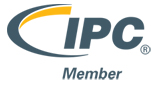 IDCís circuit board assemblies refer to IPC A-610-D standards. IDCís assembly personnel are IPC training certified for lead-free soldering.
IDC procures and maintains all necessary test and lab equipment for the development, production, and support of systems we develop for our clients. Production is similarly supported with anti-static work stations, temperature regulated soldering equipment, tools, and test fixtures. RoHS lead-free components and circuit boards are used along with water-washable solder, keeping IDC green and free from solvent issues.
From oscilloscopes to in-circuit emulators, DVMs, temperature indicators, frequency generation and measurement, and 6 1/2 digit DMMs, IDC has the necessary equipment to support development, testing, and production. Equipment that might be needed that is not in-house can be leased or purchased as required.
We also have the necessary software tools to support development, testing, and production; Assemblers, debuggers, and compilers are retained by IDC to support product development for the various microprocessors we design-in, as well as in-circuit emulators and program download equipment.